Posts for tag: periodontal disease
By Rancho Laguna Family Dentistry
February 23, 2015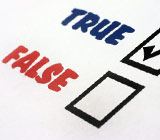 Periodontal disease is the leading cause of tooth loss in adults. A recent survey by the Centers for Disease Control and Prevention showed that nearly half of Americans older than 30 had some signs of periodontal disease. That's more than 64 million people.
How much do you know about this potentially serious disease? Take our quiz and find out.
True or False: Gum Disease is caused by bacteria in the mouth
TRUE. Of the hundreds of types of bacteria that occur naturally in the mouth, only a small percentage are harmful. But when oral hygiene (brushing and flossing) is lacking, these can build up in a dental plaque, or biofilm. This often causes inflammation of the gums, the first step in the progression of gum disease.
True or False: Gum disease is more prevalent among younger people
FALSE. Gum disease is most often a chronic disease, meaning that it progresses over time. Statistics show that as we age, our chances of developing gum disease increase, as does the disease's severity. In fact, according to the study mentioned above, about 70% of adults 65 and over have mild, moderate or severe periodontitis, or gum disease.
True or False: Bleeding of the gums shows that you're brushing too hard
FALSE. You might be brushing too hard — but any bleeding of the gum tissue is abnormal. Gum sensitivity, redness and bleeding are typically the early warning signs of gum disease. Another is bad breath, which may be caused by the same harmful bacteria. If you notice these symptoms, it's time for a checkup.
True or False: Smokers are more likely to develop gum disease
TRUE. Not only are smokers more likely to develop gum disease, but in its later stages they typically show more rapid bone loss. Smoking also prevents the warning signs of gum disease - bleeding and swelling of the gum tissues - from becoming apparent. Other risk factors for developing the disease include diabetes and pregnancy (due to hormonal changes). Genetics is also thought to play a role in who gets the disease — so if you have a family history of gum disease, you should be extra vigilant.
True or False: The effects of gum disease are limited to the mouth
FALSE. Numerous studies suggest that there is a relationship between periodontal health and overall health. Severe gum disease, a chronic inflammatory disease, is thought to increase the risk of cardiovascular diseases like heart attack and stroke. It may also lead to complications in pregnancy, and problems of blood-sugar control in diabetics.
So if you have any risk factors for gum disease, or if you notice possible symptoms, don't ignore it: let us have a look. We can quickly evaluate your condition and recommend the appropriate treatments if necessary. With proper management, and your help in prevention, we can control gum disease.
If you have concerns about gum disease, please contact us or schedule an appointment for a consultation. You can learn more in the Dear Doctor magazine articles "Understanding Gum (Periodontal) Disease" and "Warning Signs of Periodontal (Gum) Disease."
By Rancho Laguna Family Dentistry
December 04, 2014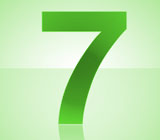 Periodontal (gum) disease can lead to serious infection and even loss of teeth; but it can easily be prevented. Here are seven things you can do to prevent gum disease — or stop it in its tracks if you already have it.
Understand the causes of gum disease. Diseases of periodontal (from the root words meaning "around" and "tooth") or gum tissues start with bacteria collecting on your teeth, in the areas where the teeth and gums meet. The bacteria, called plaque or biofilm, irritate the surrounding tissues and cause them to become inflamed and swollen, and to bleed easily on contact. This condition is called gingivitis.
Brush correctly and effectively. Brushing twice a day is not just to polish your teeth to pearly whiteness. An important reason to brush is to remove the daily coating of plaque from your teeth. At your next dental appointment, ask me or our staff to show you the most effective way to brush.
Floss every day. Daily flossing removes the plaque that settles in between your teeth, in places where your brush can't reach.
Have regular professional cleanings. Our hygienist will remove plaque that you missed by brushing and flossing. This plaque hardens into a material called calculus or tartar. In a professional cleaning your hygienist uses special tools to scrape these materials away. The hygienist also measures the distances between your gums and teeth to make sure that inflamed gums have not separated from the teeth, forming pockets in which the bacteria continue to grow.
Recognize the signs of developing gum disease. These signs include any of the following: gums that bleed easily when you brush or floss; bad breath; red or swollen gums; and sensitive teeth.
Stop smoking. If you haven't stopped smoking for your heart or lungs, here is another reason to quit. Smokers are more likely to develop periodontal disease than nonsmokers. Smoking masks the effects of gum disease, so smokers are less likely to notice the symptoms, allowing the disease to progress to a greater degree before they seek help.
See our office right away if your teeth become loose or your gums become red and swollen. If inflamed gum tissues do not heal, the disease continues to progress. The tissues that attach your teeth to your bone, called ligaments, are lost as pockets deepen as the infection advances. Your gums may also become red, swollen, and painful. As the infection gets worse it eats away the bone around your teeth, causing the teeth to loosen and fall out.
So start with prevention and stop periodontal disease in its early stages.
Contact us today to schedule an appointment to discuss your questions about gum disease. You can also learn more by reading the Dear Doctor magazine article "Warning Signs of Periodontal (Gum) Disease."
By Rancho Laguna Family Dentistry
February 04, 2014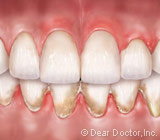 Periodontal or gum disease is a serious condition that could lead to tooth and bone loss. Unfortunately, you may not even realize you have it — the disease in its early stages can be difficult to detect. If you know what to look for, however, a few signs can tell you something isn't quite right.
Bleeding gums after brushing, for example, are a likely indication that your gum tissues are inflammed due to an infection caused by bacterial plaque. Coupled with chronic inflammation from the body's response to the infection, the unhealthy tissues bleed easily.
As the disease progresses, you may also notice changes in your gums' appearance: redness at the gum line, as well as some slight swelling. Receding gums expose more of the tooth below the enamel crown. As roots become exposed to the oral environment, you'll begin to notice painful sensitivity to hot or cold. In time, the disease may cause bone loss producing other signs like loose teeth or teeth shifting from their original position.
In some cases, gum disease can cause a painfully acute abscess. This occurs when the bacterial infection becomes isolated in a pocket of space between the teeth and gums. As the body attempts to fight the infection, its defenses are overwhelmed and the abscess becomes painful, swollen and filled with pus.
If you encounter any of these signs, it's important to take action quickly to minimize the damage and stop the disease's progress. Our first priority is to remove as much bacterial plaque and calculus as possible and may consider antibacterial and antibiotic treatments. This may take more than one session, but it's necessary in stopping the disease.
Long-term success, though, will depend on improved oral hygiene (brushing and flossing), regular office cleanings to remove difficult to reach plaque and calculus, and checkups to monitor the condition of your gums. You can also lower the risk of reoccurrence with improvements in diet and life-style (such as quitting smoking). Instituting better hygiene and lifestyle habits, as well as keeping alert to any signs of recurring disease will go a long way in preserving your teeth and overall oral health.
If you would like more information about periodontal disease and its effect on your health, please contact us or schedule an appointment for a consultation. You can also learn more about this topic by reading the Dear Doctor magazine article "Warning Signs of Periodontal (Gum) Disease."